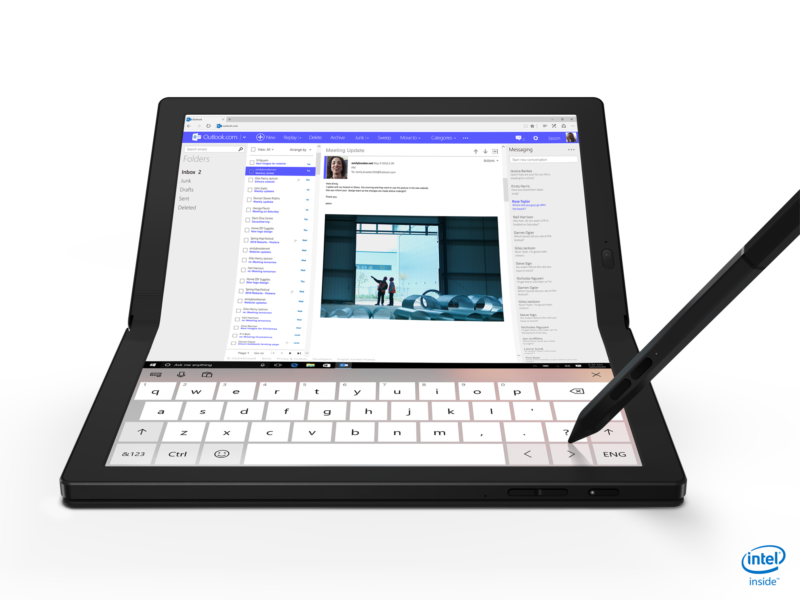 Lenovo is following on Dell's heels with an announcement of two 13-inch Intel Tiger Lake powered laptops of its own—but Lenovo's new designs are considerably further "out there" than Dell's. Lenovo's two new designs are the X1 Nano—a traditional but ultralight laptop weighing in at less than two pounds—and X1 Fold, a not-exactly-laptop design with a folding screen.
Yes, you read that right—the X1 Fold is to feature a folding LCD display, aiming at the same basic target Samsung did with the Galaxy Fold. Our own Ron Amadeo reviewed the Galaxy Fold in January and was very unimpressed, but it has been nearly a year, and Lenovo may well have figured out a few things that Samsung did not. We're reserving judgment on the X1 Fold until we can get one in our hands.
X1 Nano
Extremely thin laptop is extremely thin. [credit:
Lenovo ]
The X1 Nano is a pretty straightforward design—it's extremely sleek and lightweight, but apart from that, it's a standard 13-inch laptop. It will be available in black, as shown above, with no further colors announced at this time.