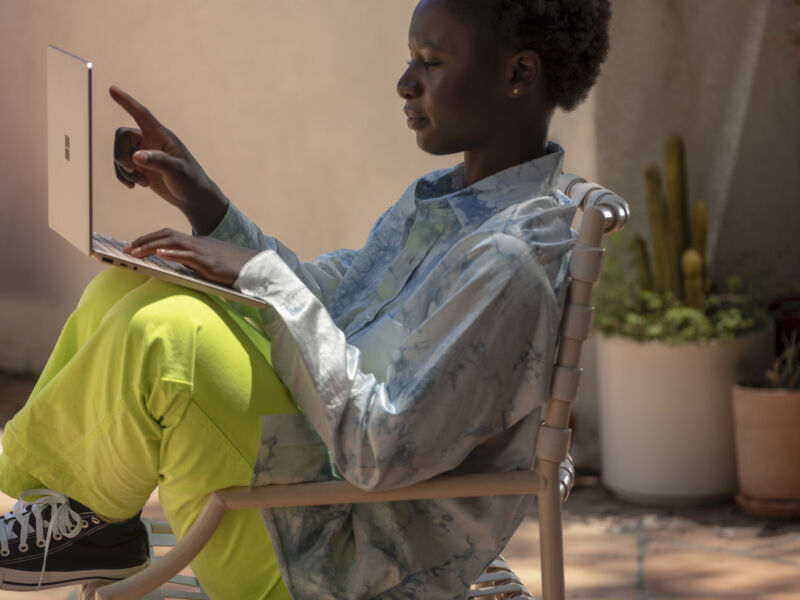 Microsoft has just announced its newest addition to the growing Surface family, the Surface Laptop Go, alongside an updated Surface Pro X. The Laptop Go aims to bring affordable Windows computing to stylish, premium hardware in the mid-range laptop segment, starting from $549. The LTE-enabled Pro X, on the other hand, starts at $999 and is more of a refresh, specifically on the top-tier models of the ultra-portable, always-connected two-in-one PC.
There's a lot to love about the Surface Pro X, but while an LTE-connected computer is starting to feel like something of a bygone era, given current mobility trends, the Surface Laptop Go may be debuting at just the right time. As Panos Panay, chief product officer of Microsoft points out, Microsoft's goal of a PC for every member of a household is becoming more necessary than ever. And making them affordable is a good idea.
The Surface Laptop Go comes in a new color, Sandstone. [credit: Microsoft ]
At the $549 price, the Surface Laptop Go comes with an i5-1035G1 10th-Gen Intel processor, 4GB RAM, and 64GB eMMC storage. It also promises up to 13 hours of use, with fast charging that can juice up the laptop from zero to 80 percent in little over an hour. These are highly competitive specs to the similarly named Pixelbook Go from Google, which costs $100 more and packs an m3 processor with 8GB RAM, 64GB SSD storage, and up to 12 hours use in its base model. Of course, the Pixelbook is more limited within its Chrome OS versus Windows 10 Home in S mode, which comes loaded (and can easily be upgraded to full Windows 10 Home for free) on the Surface Laptop Go. It's also worth noting that you can configure and i5 8 GB RAM 128GB model for the same price as the base Pixelbook, $699.99.